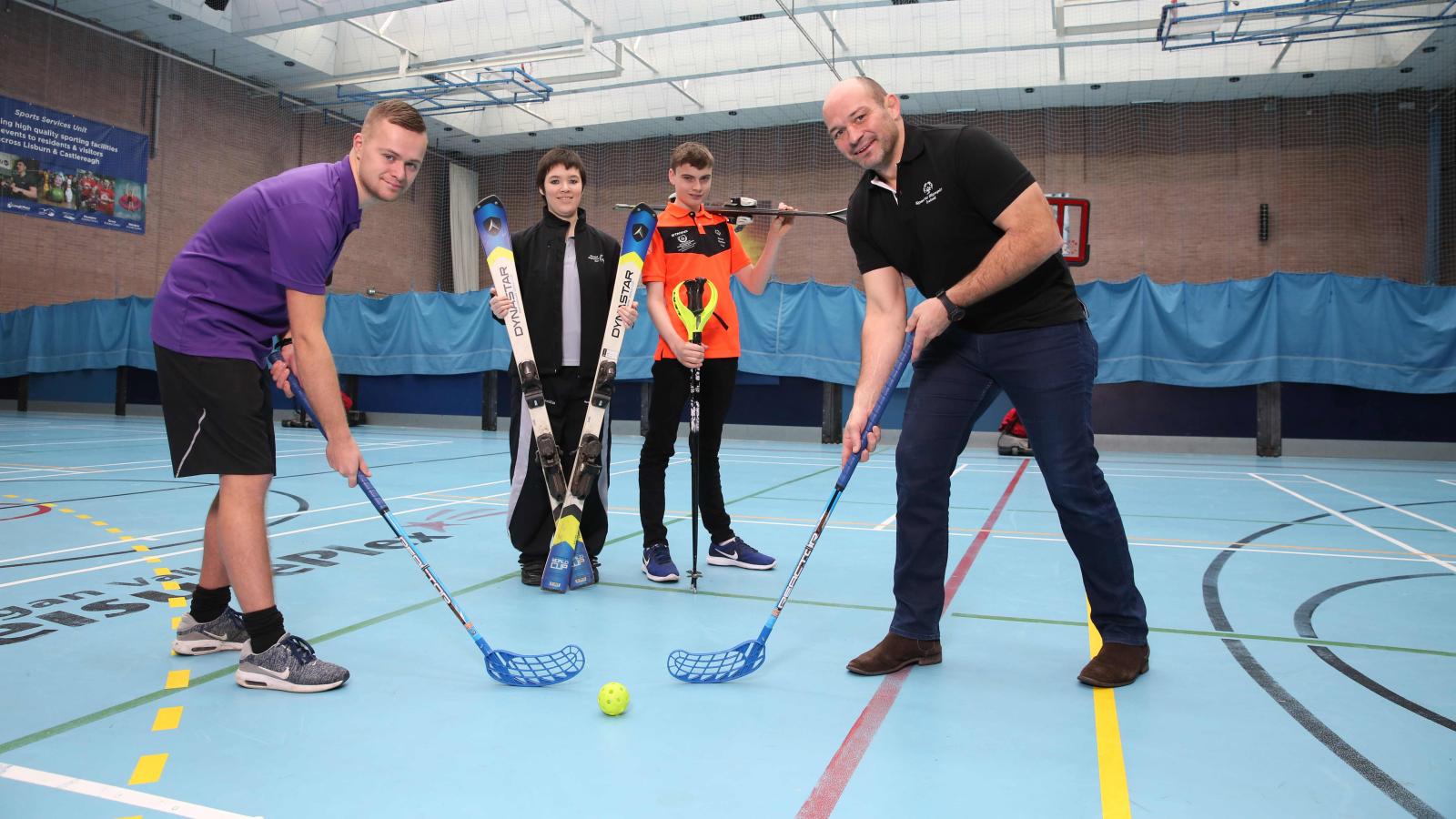 Rugby legend Rory Best helps launch the 2020 Ireland Winter Games
The Special Olympics Ireland Winter Games will take place in Northern Ireland for the first time this March. A total of 180 athletes from across the island of Ireland – including 23 from Ulster - will compete in floorball and alpine skiing at the Ireland Winter Games, which will take place in Lisburn and Craigavon between 20-22 March 2020. 
As the countdown to the Games begins, three local Team Ulster athletes got a boost to their preparations, with a special meeting with Ireland and Ulster Rugby hero, Rory Best. Local floorball athlete, Jordan Kerr and skiers Caolán McConville and Rachel McCann took some time out from training for some words of support from the former Ireland captain.
 Launching the Special Olympics Ireland Winter Games, Rory Best shared his thoughts on what representing Ulster will mean to the local athletes as they gear up for the Games on home turf for the first time: "Whenever you get to play sport, obviously it starts off as something for enjoyment but then, when you get the opportunity to represent where you're from, firstly Ulster and eventually Ireland – there's something really special about it. You're not just representing yourself, your family and friends anymore, you're representing a province or a nation. That's incredibly special - very few people get to do that, in whatever sport they choose, and for these guys to get that opportunity is incredible."
 "Northern Ireland is a fantastic place – obviously I'm biased because I live here but it's so welcoming and all of the athletes coming from all over the island will get a great welcome. They'll get well looked after. It's nice as well, with it being here for the first time, that the Ulster athletes will get a bit of home advantage and they'll get to feel what it's like to have all their family and friends coming out to support them – it will be a really special occasion."
 Jordan Kerr, 25 from Belfast is part of the Team Ulster male floorball squad. Kerr is also a gymnast, having clinched three gold and one silver medal at the Special Olympics Ireland Summer Games in 2018 in various gymnastics events.
 Skier Caolán McConville from Aghagallon, Co. Antrim, just outside Craigavon competed at the last Special Olympics World Winter Games in Austria in 2017, claiming a silver and bronze medal, aged just 13. With the benefit of international Games experience and three more years skiing training under his belt, the sixteen-year-old hopes to make a big impression on the slopes at Craigavon.
 Team Ulster teammate, Rachel McCann, 25 from Finaghy, Belfast is also setting her sights on medal success. This is the third national Games for McCann, who has been skiing for 11 years. She also trains and competes in gymnastics via her club, Salto Special Olympics Club.
 A further 20 local Ulster athletes will compete in the Ireland Winter Games, along with athletes from right across Ireland competing in floorball and alpine skiing events. Floorball events will take place at Lagan Valley Leisureplex, with skiing competitions at Craigavon Golf and Ski Centre.
 The Ireland Winter Games will be a highlight for Special Olympics athletes right across Ireland this year. For many, this will be their first opportunity to compete on an All-Ireland level. These Ireland Games are the qualifying event for the World Winter Games in 2021.
Amongst the local hopefuls are former champion skiers, Sean McCartan, 19 from Carryduff, Co. Down and Cyril Walker, 49 from Markethill, Co. Armagh. Sean scooped a gold and silver medal at the 2017 World Winter Games in Austria, while teammate, Cyril won bronze and silver, with one of his medals presented by Arnold Schwarzenegger.
 This is also an exciting Games for Team Ulster's two floorball squads (male and female), as it's the first time the region will compete in floorball at an All-Ireland level. Floorball is a growing sport within the Special Olympics programme, with Irish squads competing at the last two Special Olympics World Winter Games.
 Speaking at the launch of the Ireland Winter Games, Shaun Cassidy, Regional Director, Special Olympics Ulster said; "We are extremely proud of our Team Ulster athletes, who are making their final preparations for the 2020 Special Olympics Ireland Winter Games. It's a very exciting time for the region, with the Ireland Winter Games coming North for the first time, and two Ulster floorball squads gearing up for their first Ireland Games outing.
 "It was fantastic for our athletes to get the chance to meet sporting legend Rory Best, who knows first-hand the sense of pride that comes with representing your region. We will be counting on lots of home support this March to give a warm Ulster welcome to athletes from right across Ireland and make these Games a great success."
 For further information on the Special Olympics Ireland Games, visit www.specialolympics.ie, follow Special Olympics Ireland and Special Olympics Ulster on Twitter @SOIreland and @SO_Ulster and Facebook, facebook.com/SpecialOlympicsIreland and facebook.com/SpecialOlympicsUlster