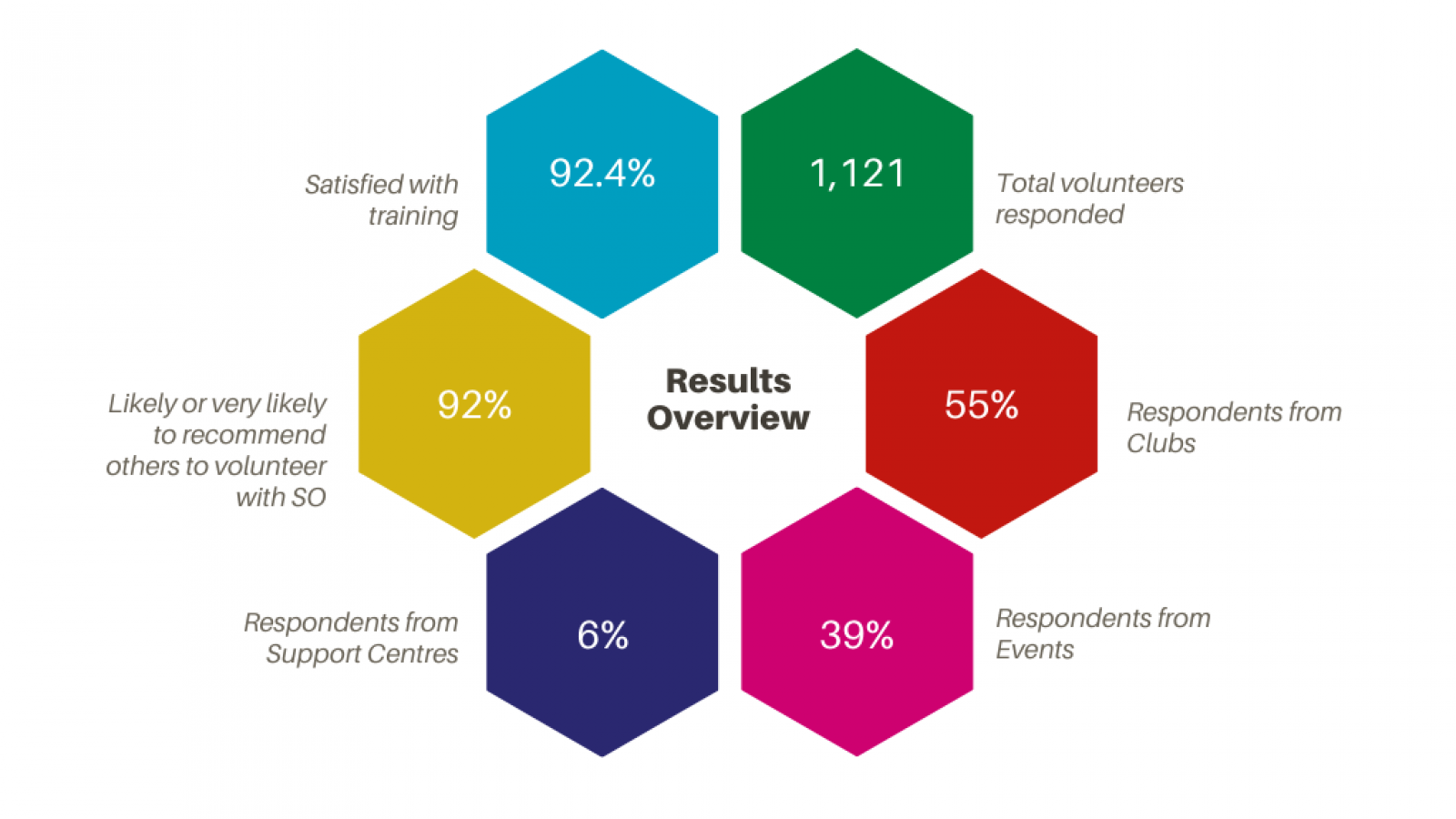 Volunteer Satisfaction Survey 2020
Special Olympics Volunteers were surveyed during 2020 to review the Special Olympics volunteer experience with a particular focus on demonstrating value. 
Whether you are a volunteer in a club, at events or other Special Olympics contexts, a volunteer who leads and influences other volunteers or a Special Olympics staff member, we can all positively influence the volunteer experience.  Take a look at some of the insights and recommendations which have come from analysis of the survey responses.
People are motivated to join Special Olympics as volunteers primarily to give back to their community but also because they have a family member or a friend involved.  They stay because they get enjoyment from it, they take terrific pride in their efforts, they want to be part of athlete development and they still feel they are giving back to their community.
Recruitment is primarily through friends or family who are already involved with Special Olympics.
Most volunteers learn of other volunteer opportunities available to them by being emailed directly by Special Olympics.
Almost half of respondents volunteer with another organisation(s) but rate their experience with Special Olympics just as good if not better than that of other organisation(s).
When asked directly, volunteers say they don't need formal recognition but answers to other questions indicate that informal recognition and utilisation of their skills is very important to them.  Respondents don't want to be underutilized. They have expressed that letting them know the impact of their contribution would demonstrate value.
The level of direction and supervision given to volunteers is strong, however, we need to improve how we communicate and define roles and responsibilities
Respondents are very happy with the level of training they receive (92.4%) but there's an opportunity to reduce any dissatisfaction in this area.
There is an appetite for more training and development, particularly in the areas of coaching, intellectual disability, events and safeguarding
Volunteers are willing to engage in blended and online learning interventions.
Many volunteers think that they can be easily replaced. 
Engaged volunteers have given feedback in this survey and its positive outcomes should be used as an example of what good looks like.
The response rate from youth volunteers was low
Recommendations
Increase opportunity to have a higher response rate overall and from youth volunteers in particular.  Mixed feedback would be more insightful. 
Encourage informal recognition by drafting suggested guidelines to those who lead volunteers (whether those leaders are volunteers in clubs and at events or whether they are Special Olympics staff members).  It may be useful to gather input from experienced club and event volunteer leaders as to what works for them.  Promote the use of existing on-boarding guidelines, particularly to support young volunteers.  
We have to find a way to communicate to volunteers, the impact of their contribution.  This feedback will need to be specific and sincere.
Let existing volunteers know at the start of the (sports) year what opportunities are open to them, particularly around Events.  Allow volunteers the time to choose how they can best spend their time with Special Olympics.
Review training modules in the areas of interest and need to volunteers and communicate how to access.
We (volunteer leaders, volunteers and SO staff members) need to ensure we maintain standards in terms of the volunteer experience to retain engaged volunteers.