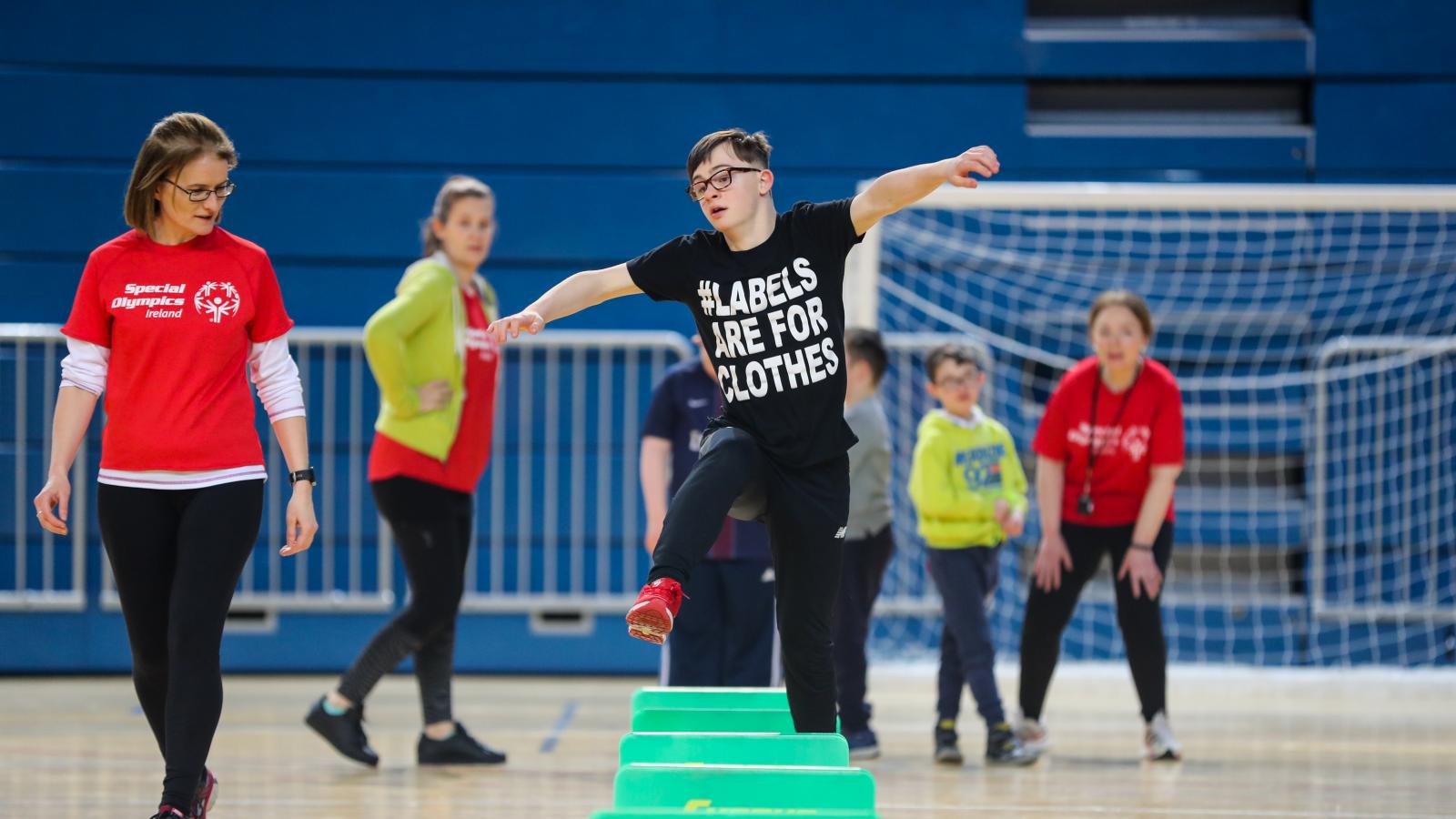 Volunteer in a Club
Due to the Coronavirus (COVID-19) our clubs are currently assessing their return to activity. 
If you are interested in getting involved with a local club then please email the relevant regional office for further information.
Leinster: Contact Vikki Geldard at SO.Leinster@specialolympics.ie
Regional coverage for clubs in counties Carlow, Kildare (excluding North Kildare), Kilkenny, Laois, Louth, Offaly, Meath, Wexford, Wicklow (left of the mountain range) and Clonmellon, Devlin, Bracklyn, Kilucan and Kinnegad in Westmeath
Eastern: Contact Lauren Murphy Kelly at eastern.region@specialolympics.ie
Regional coverage for clubs in counties Dublin, North Kildare (towns of Maynooth, Ceilbridge, Leixlip) and Wicklow(East of the mountains as far down as Arklow)
Munster: Contact Liana Leonard at so.munster@speciaolympics.ie
Regional coverage for clubs in counties Waterford, Cork, Kerry, Limerick, Clare, and Tipperary
Connaught: Contact Melissa Heanue at so.connaught@specialolympics.ie
Regional coverage for clubs in counties Galway, Leitrim, Longford, Mayo, Roscommon, Sligo and Mullingar, Kinnegad and Athlone in Westmeath
Ulster: Contact Jennifer Bell at jennifer.bell@specialolympics.ie
Regional coverage for clubs in counties Antrim, Armagh, Derry/ Londonderry, Down, Tyrone, Fermanagh, Donegal, Cavan and Monaghan
General Club Roles
They cover a number of tasks, e.g., equipment set up and tear down, registration of athletes and volunteers, inducting new volunteers, support and supervision of athletes between activities and supporting members of the club management team in various activities. Being part of a fantastic team is a must.
Club Management Team Roles
The Club Management Team is a team of volunteers who run the club.  Most Club Management Teams have 6 roles:
Club Chairperson has overall responsibility for the activities of a club.  This person leads the team of volunteers running the club, represents the club and ensure all club activities are in line with Special Olympics policies and procedures.
The Secretary works closely with the Chairperson in all aspects of club administration.
Sports Officers are in multi-sports clubs and represent Head Coaches for each sport at committee level.  The Sports Officer leads the team of Head Coaches, Coaches and Assistant Coaches to ensure regular quality training and participation in competition by athletes.
Safeguarding Officer ensures the Code of Ethics & Good Practice is adopted by club members and acts as a point of contact for all issues related to athlete protection.
The Treasurer has overall responsibility for club income and expenditure and produces the statement of accounts
The Club Membership Officer is the point of contact for the members of the club and has the lead responsibility for managing the relationships with the club members and management of club volunteers.  The Membership Officer maintains records and communicates with Regional Office, e.g., attendance, volunteer roles, affiliation, training