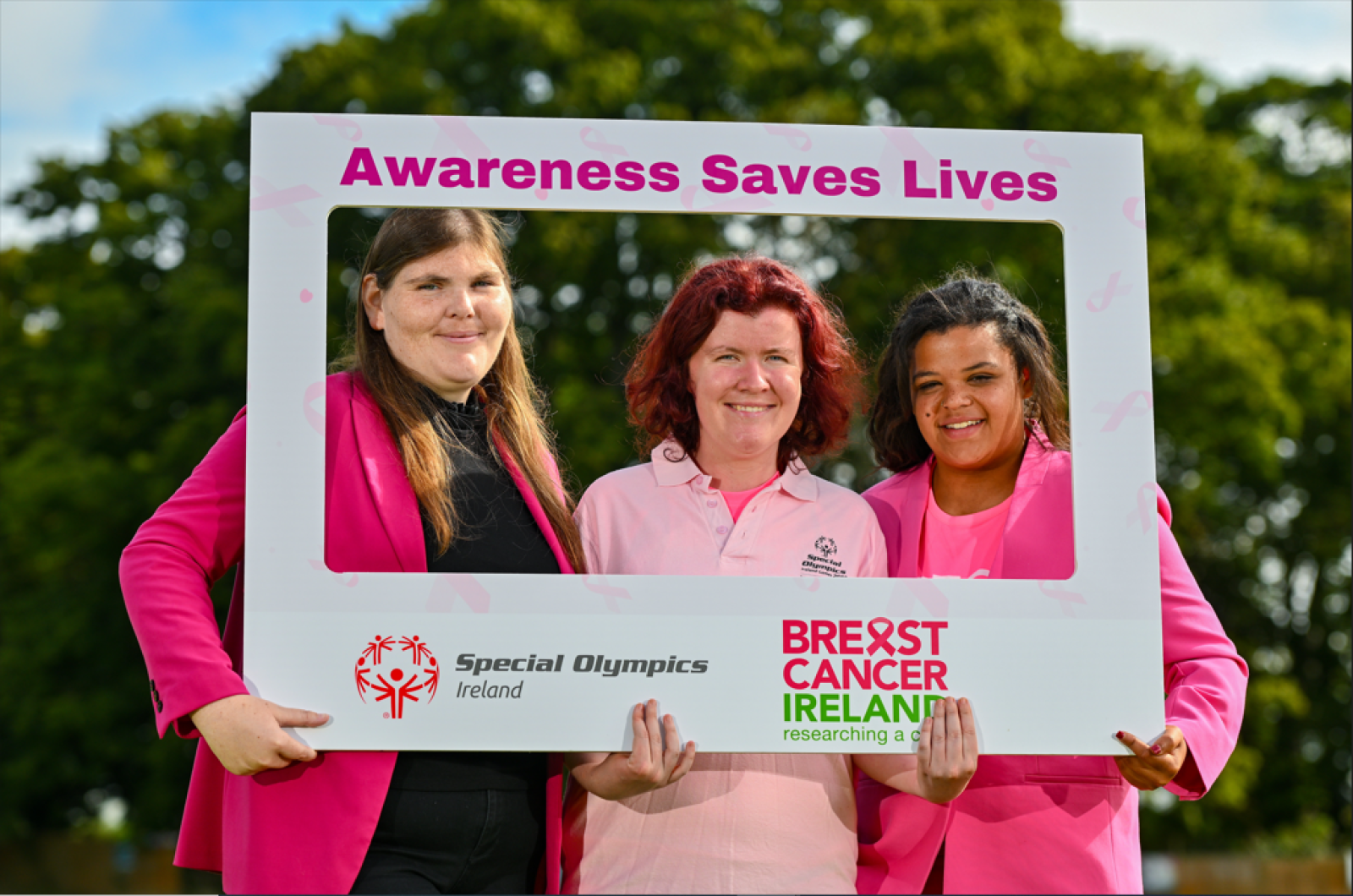 Special Olympics Ireland and Breast Cancer Ireland join forces to launch inclusive breast health education programme
Special Olympics Ireland has partnered with Breast Cancer Ireland (BCI) to launch a pioneering Breast Health and Education Awareness Programme aimed at women with an intellectual disability (ID).
Following the launch of the programme at Special Olympics Ireland HQ on 9 August, BCI will partner with Special Olympics Ireland to deliver five Breast Health Education and Awareness workshops per year to Special Olympics athletes.
These free-of-charge education workshops involve trained BCI Outreach Coordinators using medical mannequins to teach Special Olympics Ireland athletes about how to perform a self-breast examination, and the eight signs and symptoms to look out for.
According to Walsh, S et al, research indicates that women with an ID tend to present with later-stage cancers which have poorer outcomes compared to women in the general population. Evidence suggests that women with an ID are more likely to experience a greater number of risk factors for breast cancer, placing them at increased risk, and that they possess limited knowledge about breast awareness and breast cancer.
The Breast Health Education and Awareness workshops are intended to empower Special Olympics athletes with health knowledge, potentially leading to improved outcomes including earlier detection and treatment, better prognosis, and improved survival.
This is in line with the inclusive health approach championed by Special Olympics Ireland, which involves educating and involving athletes in their own health and giving them the tools to live healthy lives.
Speaking at the launch, Carol Scott, BCI Outreach Co-ordinator and Parent of Special Olympics athlete said: "As both the proud mother of Moira, a Special Olympics Athlete, and my role as a Breast Cancer Ireland Outreach Coordinator, I am genuinely delighted to see this partnership between these two wonderful organizations come to fruition. To witness a partnership with Breast Cancer Ireland evolve, and knowing the impact that this will have from an athlete education and awareness perspective is a very welcome and exciting development. Sometimes, additional needs groups and communities can feel somewhat 'left out' when it comes to national health awareness programmes - so I'm proud to see Breast Cancer Ireland leading the charge as always with regards to diversity and inclusion." 
Hayley Kavanagh, Special Olympics Ireland Health and Wellbeing Coordinator said: "This partnership strives towards the Special Olympics mission of inclusive health. Through this partnership we can bring accessible breast health education to the female athletes attending our sports programmes. Knowledge is power and if we can help athletes identify any signs or symptoms of breast cancer at an early stage then they have a higher chance of receiving a better health outcome."
Athlete Deirdre Walsh participated in an introductory session delivered by Carol Scott. She said: "I found the education programme interesting and very useful for athletes - and for everyone. My own family has dealt with breast cancer, and I think this programme is very important so we can understand the signs and deal with breast cancer if it appears."