Fitness Resources
 Work out with these resources five times a week to help you stay fit and reach your athletic goals. Whether you feel like a strength session or some light exercise, browse our fitness videos for some easy inspiration for home workouts,
Couch to 2km Challenge
We want to challenge you to stretch your legs and get exploring your local area
Below you can download a tailored exercise plan and activity tracker to help you smash your 2km goal. Whether that's walking, building up to a run, or striding to a PB.
Download your plan and activity tracker today and get moving!
Level 2: 2km-5km Plan
If you are read to move on from the 2km plan, we have a 5km plan and tracker ready for you to download straight away!
Walking Checklist
A person walks 65,000 miles in their lifetime – that's equivalent to walking three times around the earth! See how many of the things on this checklist you can spot on your walk today.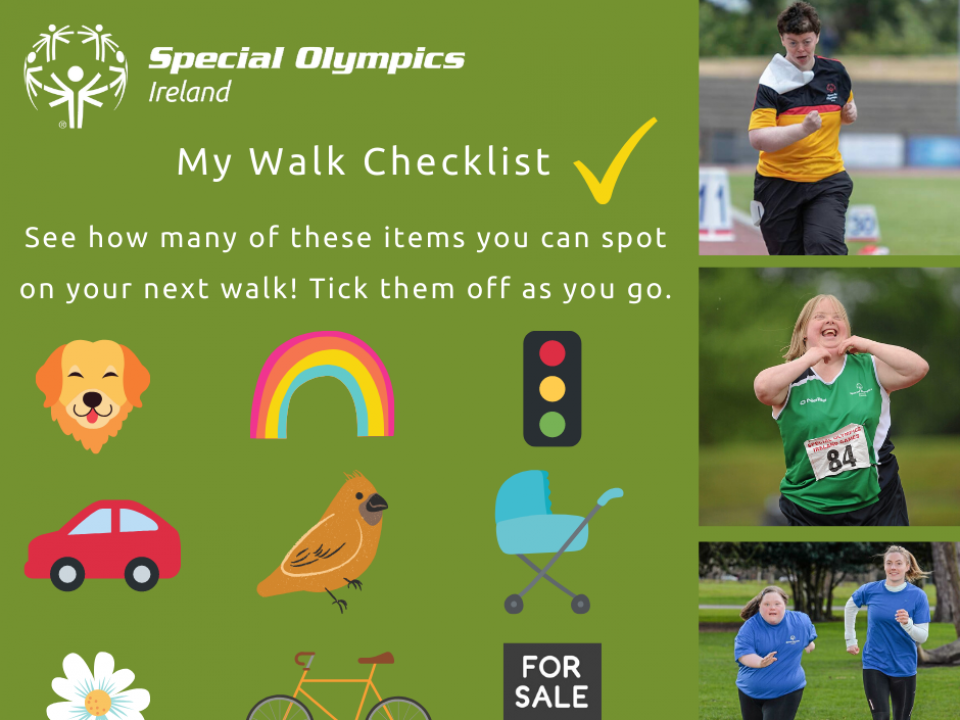 Bingo Card
Have you been making good use of your time at home and trying to stay fit and healthy? Play some BINGO and see if you can fill a line or go for the 4 corners, everything adds to a great selection of activities.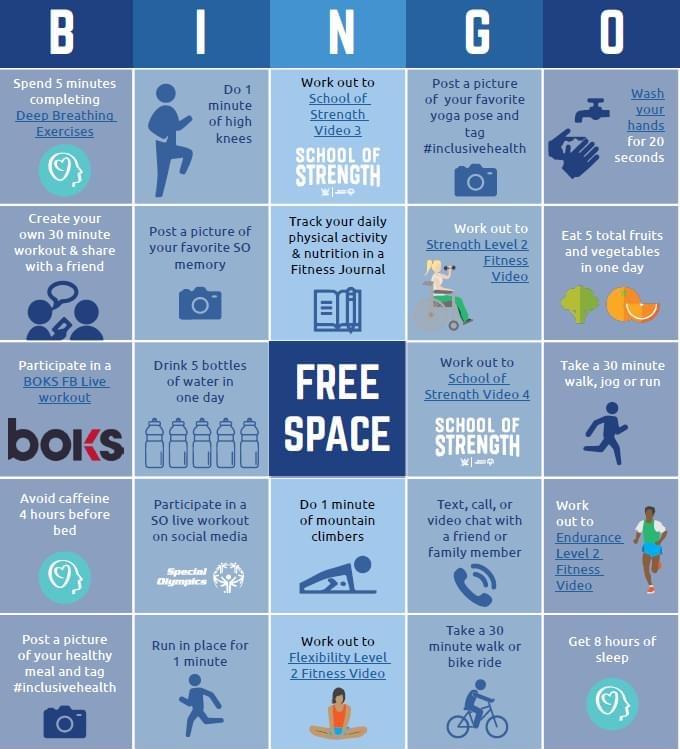 School of Strength
Introducing a whole new way to exercise, featuring WWE Superstar Becky Lynch. Work out with these videos five times a week to help you stay fit and reach your athletic goals. Watch them in order starting with Video 1. When you can do each exercise in a video correctly, it's time to move on to the next one.
Day 1 :
Video 1: Warm up 
Video 2: Ignite your endurance workout
Day 2: Get schooled on strength
Day 3
Video 3. Boost your balance
Fit 5: Strength
Strength is the ability of your body to do work. Strength gives you the ability to jump higher, throw farther, and sprint faster. 
Fit 5: Endurance
Endurance exercises help to keep your heart, lungs and circulatory system healthy and improves your overall fitness. 
Fit 5: Flexibility 
Flexibility is the ability of your body to move easily in all directions. Being flexible makes it easier to do sports skills and helps prevent injuries to your muscles and joints!
Basketball drills and skills
Evelyn and Gina from Galway Globetrotters Special Olympics Club have created a basketball drills and skills video to keep you fit until you get back on the court!
With help from athlete Maria Hannon, this video will help you work on:
🏀 A great warm up before practice
🏀 Passing drills
🏀 Footwork
🏀 Dribbling
🏀 Shooting drills
Follow this video once or twice a week and you'll be in top shape at your next basketball practice! 
Gym Stretch Exercises
Liam and Jamie O'Toole from Owenabue Special Olympics Gynmastics Club have teamed up to bring you the perfect gymnastics stretch video!