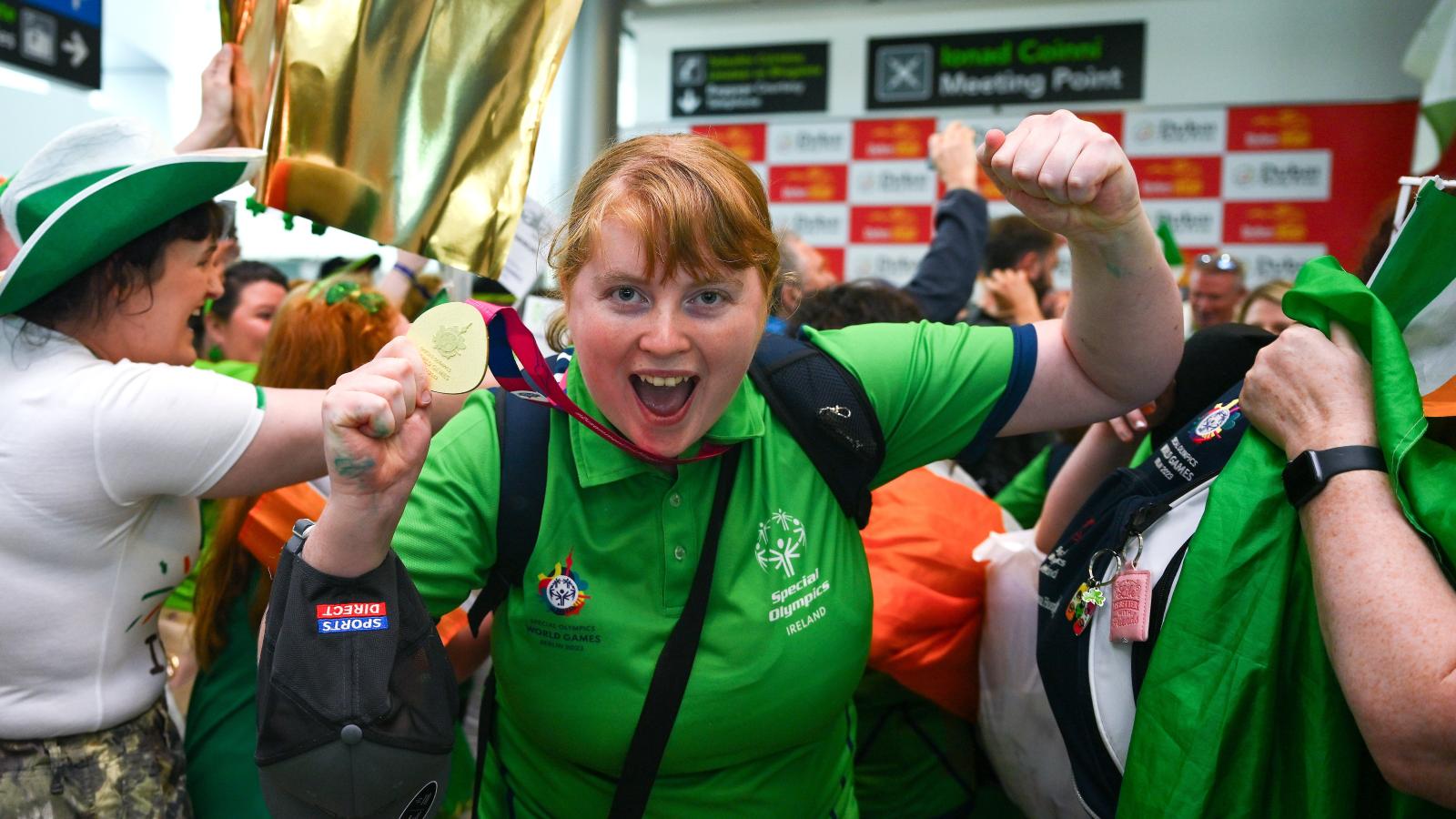 Emotional scenes as Team Ireland bring home the bounty from Berlin with 75 medals
73 Team Ireland athletes return home from Special Olympics World Summer Games with 75 medals (24 gold, 22 silver and 29 bronze) 

Hundreds of family and friends filled Dublin airport Berlin to cheer on the team as they compete in 12 sports; athletics, badminton, basketball, bocce, bowling, equestrian, football, golf, gymnastics, kayaking, swimming and table tennis. 

Overwhelming support from the people of the island of Ireland helped the team achieve these amazing results  
 
The team arrived at Dublin airport on Aer Lingus flight EI 333, greeted by a cheering crowd of friends and family, all eager to celebrate their momentous medal haul. Besides the medals every athlete returns home with new friends and precious memories. 
 
The World Games is a life-changing experience. For some athletes they have never stayed away from home overnight, so spending over a week in a team environment brings a whole new sense of independence and life skills- these are as valuable as any medal collection.  
 
Emma Costelloe, competing in athletics finished off the week in Berlin in style, claiming a gold medal in the 400m- the final event of the games said: 
I've had a brilliant week, it means a lot to me to be able to connect with other countries, and other teams and to meet new people.  changed me completely. I've made new friends and it's ben great to be part of a team. I'd tell everyone to get on board and take the opportunity to be part of Special Olympics- it's changed my life 
 
The coverage of the World Games shone a spotlight on the determination and commitment that the team has cultivated since its selection in January. 
Speaking from Dublin airport at the team homecoming, Matt English, CEO of Special Olympics Ireland said: 
Every member of Team Ireland has done their clubs, communities and country proud. They have inspired countless athletes who train so hard, week in and week out to be the best that they can be. The support both in Berlin and at home has been overwhelming and a fitting tribute to the whole team's achievements at the Special Olympics World Games. 
 
The athletes' skill and dedication coupled with the support of our volunteer led management team & coaches' hard work, truly paid off and led to so many outstanding performances. The team has brought home 75 medals of gold, silver and bronze as well as 47 placed finishes and participation ribbons. The memories of these Games will last a lifetime. The legacy of Ireland hosting the World Games twenty years ago in 2003 was there for all to see and so many International teams still cite the Ireland Games as the best ever. 
 
I would like to sincerely thank everyone who played their part in helping these athletes' dreams come true. We are grateful for the support of all our valued partners who provide vital funding and other services. We would especially like to thank all of our volunteers who are critical in so many ways.  For those who have not yet experienced the magic of Special Olympics, we urge you to get involved and reach out, connect with your local club, volunteer and you too can change lives. 
 
The Team was thrilled to meet with Minister Thomas Byrne, Ambassador Dr. Nicholas O'Brien during the Games as well as several corporate partners, Board Members, and dignitaries. Ireland was the best-supported team at the Games with more registered family members than any other travelling delegation. The Team was treated like royalty on board Aer Lingus our valued travel partner.  Our media partners worked phenomenally hard to capture and share the good news that was witnessed at so many sporting venues at the World Games. 
 
Of course, celebrations will be held across the island of Ireland to recognise the success of our inspirational athletes and that is so appropriate. The theme of the Berlin Games was "Unbeatable Together".  The spirit of Team Ireland was certainly unbeatable. Special Olympics Ireland will welcome many more athletes, volunteers, new clubs, and corporate partners in the months and years ahead and we will remain unbeatable together, looking forward to a bright future with so many possibilities. 
 
Lynne Embleton CEO of Aer Lingus spoke of how proud Aer Lingus are to partner with Special Olympics Ireland: 
''What an honour it is for all of us at Aer Lingus to fly and welcome home these truly wonderful athletes who were outstanding at the Special Olympics World Summer Games. Just two weeks ago we were so proud as they boarded our flight to the games in Germany, and today we are thrilled for them, as they arrive home to their family, friends and supporters with their winning medals, and their stories of participation and elation in Berlin.   
Their teamwork, effort and their determination continues to inspire us at Aer Lingus and it is truly our privilege to be their partner airline and bring them home today.'' 
Team Ireland's involvement at the Special Olympics World Games in Berlin were enthusiastically supported by the Irish Government. Minister of State for Sport and Physical Education, Thomas Byrne TD, said; 
It was the privilege of a lifetime for me to walk out with Team Ireland at the opening ceremony of the Special Olympics World Games. The spirit and sportsmanship of our Team Ireland athletes during the last week has been incredible. The Special Olympics athlete oath is "Let me win. But if I cannot win, let me be brave in the attempt" and these are words that we can all take inspiration from. The Special Olympics demonstrate the incredible power of sport and show how we can build a more inclusive society, which gives everyone the chance to take part, compete and, be brave. I want to commend the athletes and the teams of people behind the athletes, including their devoted family members and the brilliant volunteers, for all of their effort and dedication.  
Special Olympics Ireland would like to thank the generous support of the Irish businesses that supported team Ireland athletes on their journey from club stars to World Games athletes like eir and Gala Retail and Datapac. Their consistent support means Team Ireland can attend and compete at these events confident they have the support of businesses in local communities across Ireland. 
 
About Special Olympics Ireland 
Special Olympics Ireland is a sports organisation for people with an intellectual disability, but it provides athletes with far more than the physical benefits of sport. Special Olympics changes lives. Through sport, athletes develop both physically and emotionally, they make new friends, realise their dreams, and know they can fit in. Special Olympics Ireland enables our athletes to achieve and win not only in sport but in life too.  
Special Olympics Ireland currently has: 7,895 registered athletes participating in 16 sports in 294 affiliated clubs and groups throughout the island of Ireland.  
 About World Summer Games Berlin 2023 
Special Olympics World Games are the biggest inclusive sport events in the World.  
Team Ireland plans to send 73 athletes to compete in 12 sports to Germany 17th-25th June 2023.  
Team Ireland was supported by a delegation of over 60 volunteers  
Berlin welcomed 7,000 athletes, 190 nations, 20,000 volunteers and 300,000 spectators in June 2023