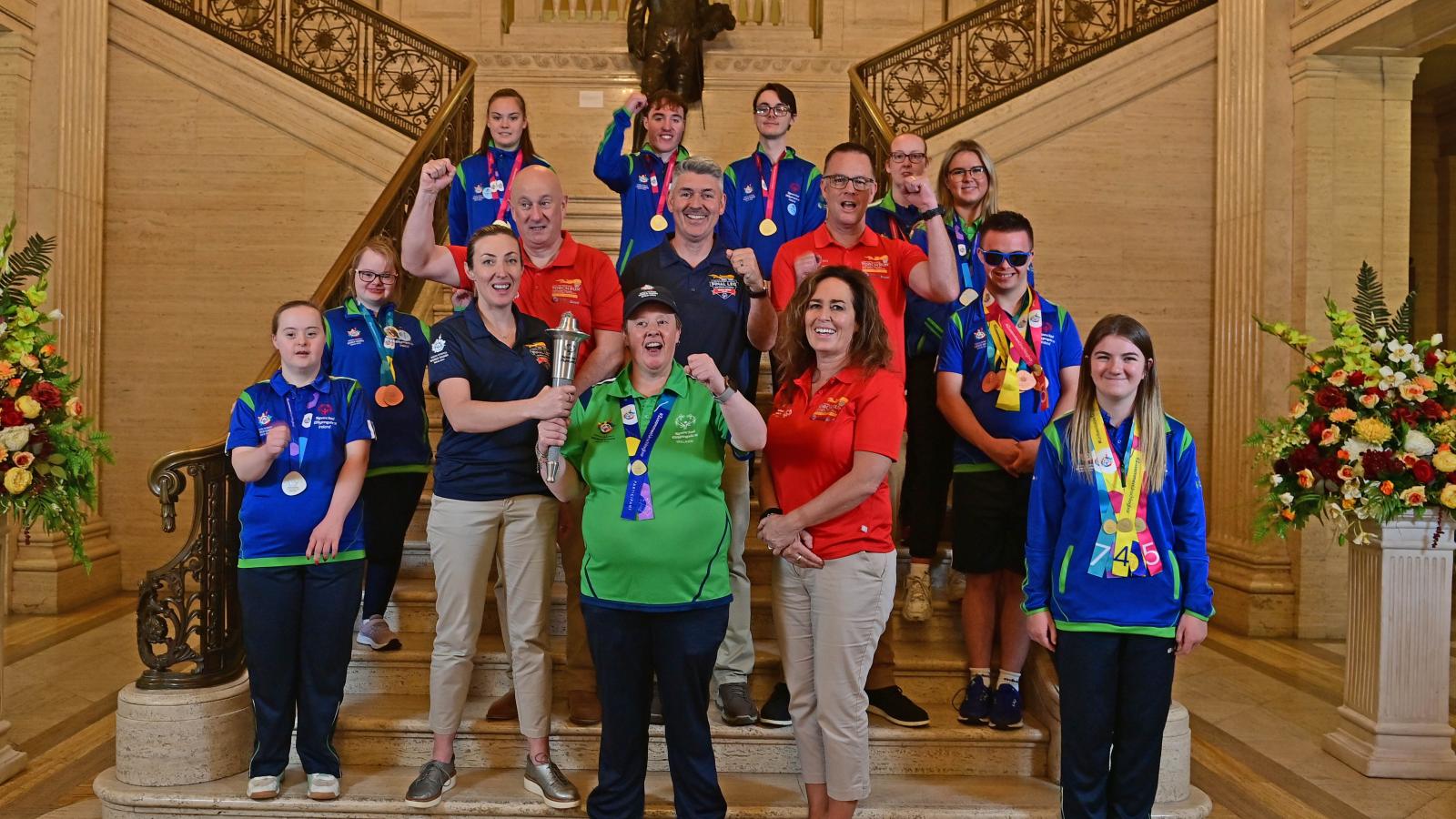 Ulster athletes celebrated by Department for Communities at Stormont
Sixteen athletes from across Ulster who participated as part of Team Ireland at the 2023 Special Olympics World Games in Berlin have been recognised at a celebration in Parliament Buildings hosted by Department for Communities Permanent Secretary, Colum Boyle. 
The Special Olympics Ulster athletes contributed 31 medals (12 gold, 8 silver and 11 bronze) to a total haul by Team Ireland of 75 medals. The successes came in sports that included gymnastics, kayaking, football, golf, bocce, and basketball. 
Congratulating the achievements of the athletes Colum said: "I would like to pay tribute to our Special Olympic athletes and their fantastic achievements in Berlin this summer. I hope that, as well as participating in your relevant sports, you were able to enjoy new life experiences with your teammates and make new friends. 
"Your selection and participation at the World Games is an amazing achievement in itself and if through this you inspire even one more person to get involved, take up a sport or get active then you will have achieved something great." 
Colum also paid tribute to the staff at Special Olympics, the coaches, clubs and volunteers: "Without your commitment, dedication and hard work the opportunities for those who take part in the Special Olympics would be greatly diminished." 
Matt English, CEO of Special Olympics Ireland said: "Every member of Team Ireland has done their local clubs, communities, the Ulster Region and indeed the whole island of Ireland proud. They have inspired so many people with their dedication and sporting spirit. The support from the Department of Communities and other funding departments has been so critical and a catalyst for the success achieved. It is a fitting acknowledgement to the whole team's achievements at the Special Olympics World Games and indeed to all the athletes who train weekly at the clubs across Northern Ireland. 
"The athletes' skill and dedication coupled with the support of our volunteer led management team & coaches' hard work, truly paid off and led to so many outstanding performances. I would like to sincerely thank everyone who played their part in helping these athletes' dreams come true. We are grateful for the support of all our valued partners who provide vital funding and other services."
Team Ireland competed in twelve sports: athletics, badminton, basketball, bocce, bowling, equestrian, football, golf, gymnastics, kayaking, swimming and table tennis. 
Photos of the celebration can be viewed at Department of Communities- Ulster Region - Skyfish