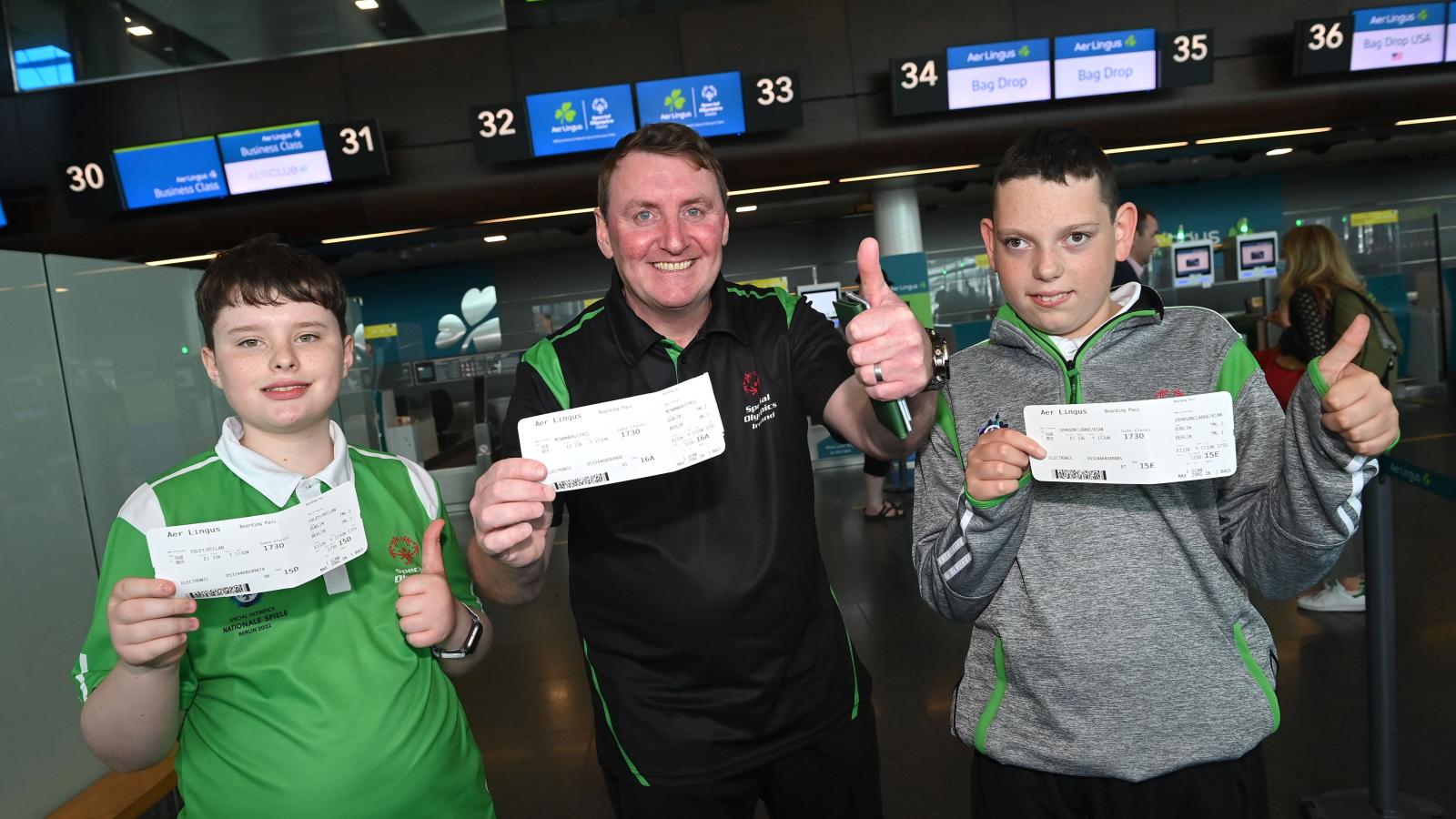 Team Ireland Depart for the 2022 Special Olympics German National Games
11 Team Ireland athletes began their journey to Berlin today ahead of the 2022 Special Olympics German National Games. Excitement was in the air as they were welcomed to Dublin Airport by Aer Lingus ground staff and flight crew ahead of boarding Aer Lingus flight EI336 bound for Berlin with dreams of success in their various sports.
Speaking at the send-off, Lynne Embleton, Aer Lingus Chief Executive Officer wished the team well, saying; "All in Aer Lingus wish Special Olympics' Team Ireland the very best of luck in the German National Games. Our partnership of almost 20 years is built on shared values, commitment, respect and team-spirit. We look forward to continuing our support next year for the 2023 Special Olympics World Summer Games."
Taking place between 19-24 June, these Games will be the largest sporting and humanitarian event in the world this year and they are an important steppingstone towards the 2023 World Summer Games which will also take place in Berlin. Supported by a volunteer management team of 8, the 19-strong Team Ireland will join 4,500 Special Olympics athletes from 13 countries at the Games. With over 30 family and friends also making the trip to support their loved ones as well as representatives from Special Olympics Ireland, Team Ireland is set to be well supported. Furthermore, we anticipate local Irish support including from the Irish Embassy in Berlin.
This is the first delegation to travel internationally since the pandemic put a stop to sport and Special Olympics activity. Speaking at the teams' departure, Chief Executive Officer of Special Olympics Ireland, Matt English said: "We are delighted to provide another opportunity for our athletes to gain life changing experiences through sport. The whole Special Olympics community is behind them as they showcase their talents across Badminton, Equestrian and Open-Water Swimming events. We are very proud of the Team and would also like to thank the volunteers supporting them in their journey. It goes without saying that as a charity Special Olympics Ireland relies on the support of partners, like Aer Lingus, without whom this Team Ireland journey would not be so smooth. Aer Lingus' sponsorship over the past 20 years is invaluable to Special Olympics."
Whether athletes are hoping to qualify for the World Summer Games in Berlin 2023, attend local competition or simply spend an hour with their club, the return to sport has been very welcome. As the Advancement Events, continue for the rest of the year Special Olympics look forward to keeping you updated on the Teams performance in Berlin. All the latest news will be shared via our social media accounts: Facebook , Twitter, Instagram, LinkedIn.