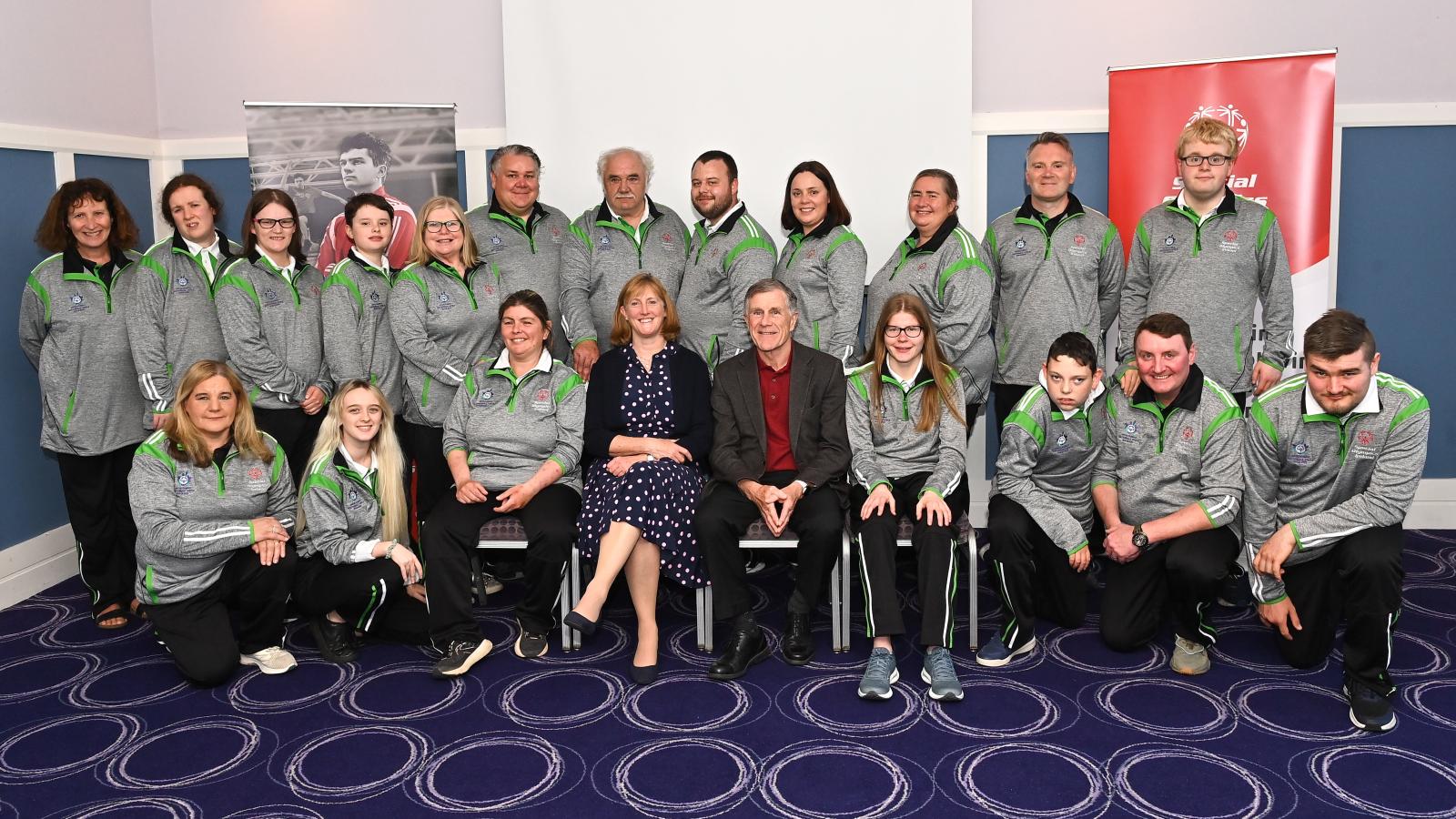 Special Olympics Ireland start the countdown to the 2022 German National Games in Berlin.
There was a definite buzz in the Carlton Hotel in Blanchardstown on Friday, May 20th, as athletes and coaches from across the island of Ireland met for the Team Ireland launch ahead of the invitational German National Games.
A total delegation of 19 people will travel to Germany next month for a test event ahead of the much-anticipated 2023 Special Olympics World Summer Games also due to take place in Berlin. Teams competing in Badminton, Equestrian and Open-Water Swimming all gathered for a weekend of training and Strong Minds sessions as they bond before the competition.
This is the first team to travel for international competition since the pandemic put a stop to sport and Special Olympics activity. Speaking at the event, Director of Sport at Special Olympics Ireland,  Karen Coventry said: "It's wonderful to be back, in person, preparing for international competitions. The hard work is done at our grassroots level, and I would like to thank our clubs for their continued support. Huge thanks also go to Julie Dwyer, Head of Delegation and the management team, preparing athletes for international travel is hard but rewarding work so thank you for going above and beyond the call of duty for our athletes.
Chairman Brendan Whelan was delighted to meet the whole team at the launch and wished them every success with final preparations. He said " I would also like to congratulate Dr. Una May on her recent appointment as CEO of Sport Ireland and to thank her for attending this evening's event given her very busy schedule. I know that everyone at Sport Ireland will join me with so many family members, staff, and supporters in cheering the team on as they compete in Berlin next month."
Over the weekend, the team got a chance to get to know each other better and their training sessions continued off the field of play with a focus on nutrition and handling the stress of competition through Special Olympics Strong Minds Programme, which you can find out more about here.
Athlete, Edel Armstrong of Sports Club 15 in Dublin made the move to Open Water Swimming (OWS) during the COVID period as her pool had temporarily closed. Edel is now heading to Berlin to compete in her first OWS event. "I like how in open water swimming there are no lanes.  I try to swim in Sutton (Dublin) once a week and two days in the indoor swimming pool. I'm really looking forward to seeing Berlin," said an excited Edel at Friday's event.
We also caught up with World Games Gold Medallist, Simon Lowry, who trains out of Loughrea Training Centre in Galway, who had this to say, "It's great to be back at in-person events – it was a big loss for a while. My last event was in Abu Dhabi in 2019. I was meant to play in a floorball event in 2020 just as the covid-19 lockdown came in so I missed out on that. I'm looking forward to the fun of it all and representing my country, it's so rare."
Whether athletes are hoping to qualify for the World Summer Games in Berlin 2023 or simply spend an hour with their club, the return to sport has been very welcome. As the Advancement Events continue for the rest of the year we look, forward to keeping you updated on the Teams performance in Berlin. All the latest news will be shared via our social media accounts so make sure you are following us on any of the following: Facebook , Twitter, Instagram, LinkedIn.
Special Olympics Ireland would like to sincerely thank all guests who attended this event on Friday evening. Your support really is invaluable. Thank you.