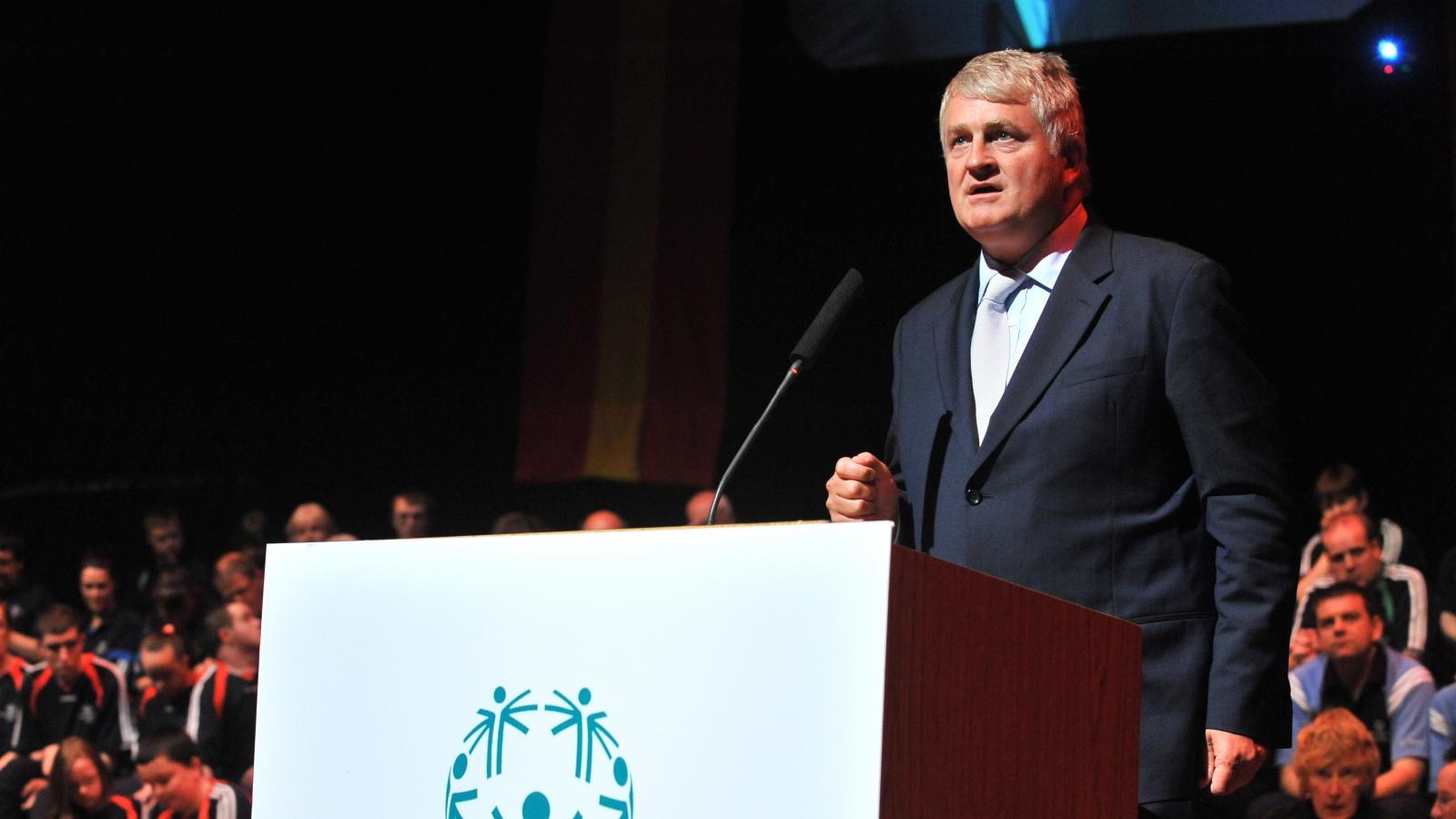 Council of Patrons
The Council of Patrons was formed in the  lead up to the 2003 Special Olympics World Summer Games which were hosted in Ireland.
We are delighted that they are active today and play a key role in supporting the organisation.
Denis O'Brien,  Chairman of Council of Patrons
Jim Barry,  Chief Investment Officer - Renewable Power Group Blackrock Inc.
Aveen Best,  Interior Director at Midtown Ventures UK & Dublin
Aine Brady,  CEO, Third Age
Terry Buckley,  Managing Director, Clear Channel Ireland
Des Cahill,  Sports Presenter/Irish Commentator with RTE
Liam Collins,  Partner - Gore & Grimes Solicitors
Jim Conway, Chairman at Print & Display Group and Board Member of Front Line Defenders
Mary Davis,  Global CEO, Special Olympics International 
Mark Dawson,  Director at Willis Human Capital & Benefits (Ireland) Ltd
Ian Dempsey, Radio Presenter
Michael Dempsey,  Senior Executive Coach, Motiv8
Gary Desmond, Managing Director - Gala Retail Services
Michael Fetherston, K-Club
Aongus Hegarty, President, International Markets – Dell Technologies
Paula Hillman, Assistant Commissioner at An Garda Síochána
Gerry Kelly,  TV & Radio Presenter
Ronan King, Independent Non Executive Director at Irish Dental Association / Non Executive Director at Dublin Business Innovation Centre
Proinsias Kitt,  Founding Partner in DHKN Chartered Accountants
Rita Lawlor,  Former Athlete and Global Ambassador
Carolan Lennon,  Country Leader, Salesforce, Ireland
Oliver Loomes, eir
Maurice Manning,  Chancellor, National University of Ireland
Feargal McCormack, Managing Partner PK/FPM Chartered Accountants
Ray McManus, Sportsfile
Ciaran McNamara, Signature Capital
Mary Moran, Former Senator; Education, Disability, Equality, and Mental Health
Donal Moriarty, Chief Corporate Affairs Officer, Aer Lingus
Maria Mulcahy, CEO, Iris O'Brien Foundation
Brendan O'Brien, Chair of Special Olympics Ireland Board
Sharon O'Buachalla, Managing Director, Lease Plan Fleet Management
Michaél O'Muircheartaigh, Former TV/Radio Presenter
Nora Owen, Former Minister for Justice
Ralph Parkes, Private Equity & Property Investor
Greg Sparks, Chairman of Audit Committee & Non-Executive Director, Digicel Group
Alan Todd,  Assistant Chief Constable (PSNI)
Brendan Whelan, Special Olympics Ireland
Keith Wood, Former Munster/Ireland/Lions Rugby Player & Founding Director of W2 Consulting