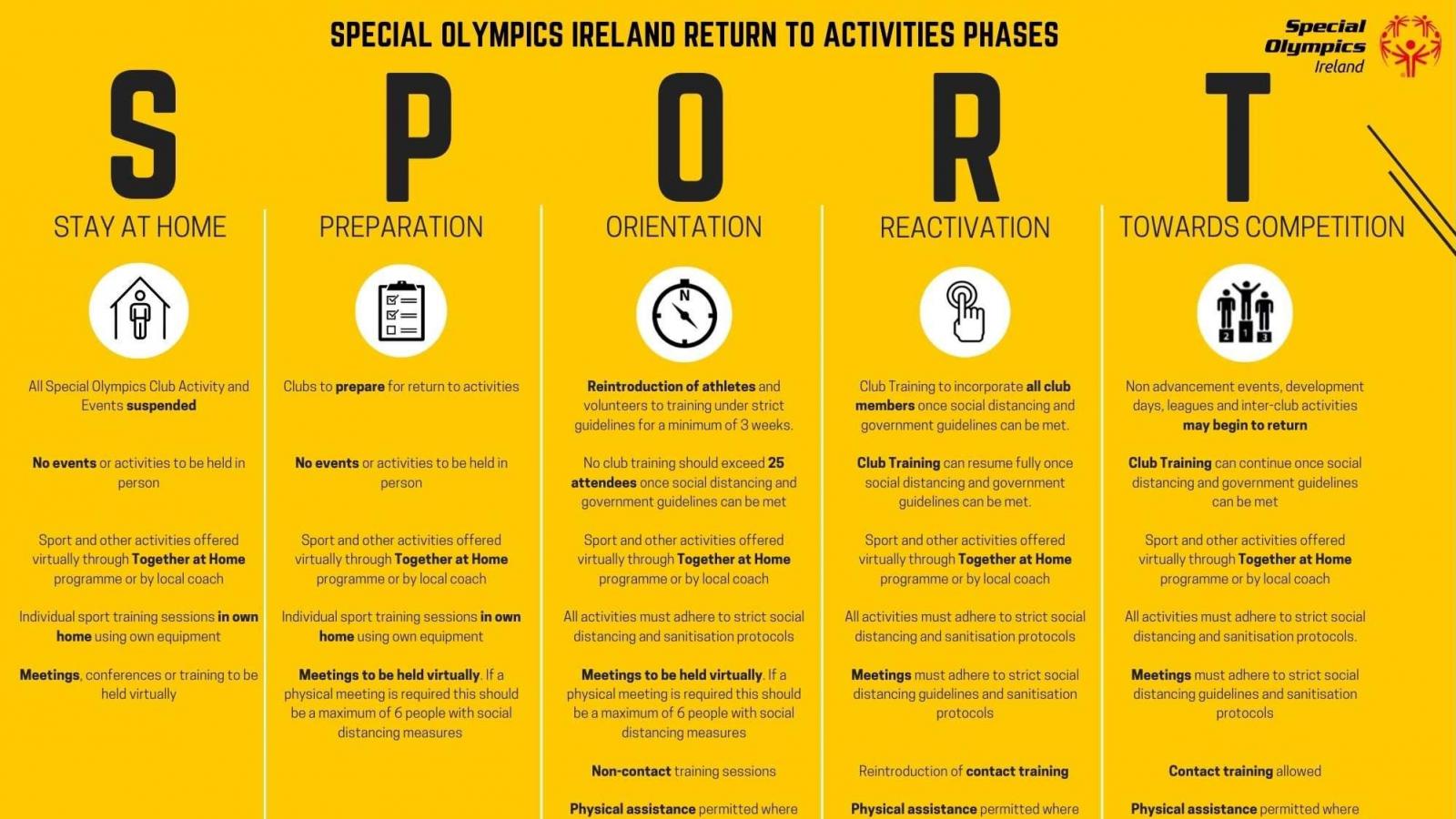 Return to Activities
Special Olympics Ireland have received the following updated detail from Sport Ireland. Please read this in support of the Return to Activities Protocol. 
Special Olympics Ireland (S.O.I.) has developed a comprehensive Return to Activities Protocol, and Safety Plan Template, aimed at protecting the health and welfare of all in S.O.I and minimizing the risk of transmission of COVID-19 in the community.
It's important to stay updated with government guidelines at all stages: view current government guidelines 
These comprehensive documents are primarily written for the Club Management Team, COVID-19 Coordinators and the COVID-19 Safety Team. Further resources for athletes, club volunteers and parents/guardians/carers will be issued in the near future.
Brief summary of what a club needs to do prior to returning to club activity:
Establish a COVID-19 Safety Team

Complete the Online Sport Ireland COVID-19 Course 

Read and understand the Return to Activities Protocol

Attend a club briefing webinar ( Dates and times provided below, registration will open soon)

Complete actions set out in the Return to Activities protocol, with particular emphasis on completing the Club Safety Plan

Confirm readiness to move to the next phase or to revert to an earlier phase.

Forward COVID-19 Coordinator's Certificate of Completion Online Course
It is important that the Club Management Team, COVID-19 Coordinator and COVID-19 Safety Team familiarise themselves with the content of these documents, and clubs need to link with the Regional Office as they progress through each phase.
Not all clubs will proceed at the same pace.  Clubs are currently in the Stay at Home phase.  With the Protocol and guidance, clubs can move into the Preparatory Phase to develop their club-specific plan.  Clubs must confirm their readiness to move into the Orientation Phase with S.O.I. prior to restarting activities.  Similarly, a move to the next phase will require confirmation in advance of moving.  As this is an ever-evolving situation, affiliated clubs may need to revert back to an earlier phase at different times.
Club documents and Templates
Special Olympics Ireland Phases at a glance